Chapter 14-

Icebergs and Escapes
SoBe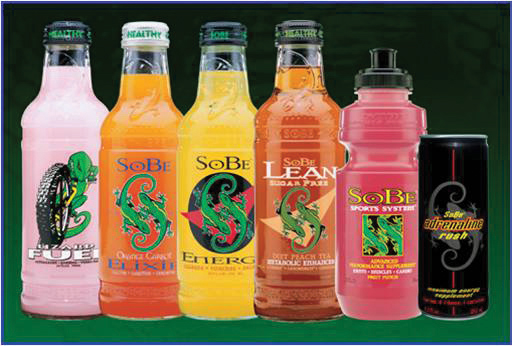 John Bello and Tom Schwalm founded SoBe Beverages in Norwalk, Connecticut, in 1996. The name is an abbreviation of South Beach, the well-known upscale area in Miami, Florida. John describes SoBe as playfully irreverent, having brand equity with meaning, a cult brand that resonates in the marketplace. He attributes the company's success to some luck, missteps by the competition, being aggressive, and tapping into a cultural shift.
SoBe tapped into a cultural shift toward healthier living and wellness and the rise of companies like General Nutrition that focused on wellness products: vitamins, supplements, minerals, and herbs. Their first product, Black Tea 3G, contained ginseng, guarana, and ginkgo. Orange Carrot, another of SoBe's first successful products, is a blend of orange and carrot juices enhanced with calcium, chromium picolinate, and carnitine. An extensive line of other flavors was added. All ingredients were linked to specific health benefits.
The first two years of operation saw SoBe losing money, but by the end of 1997, the company was on fire. In five years, the company went from $0 to $300 million in sales, and it became a national brand. SoBe was competing effectively at a premium price. Coca-Cola, Pepsi, Arizona, and other brands took notice. Within three years, Coca-Cola was talking to SoBe about a possible strategic partnership. There were fifteen meetings, only two of which were with marketing. The rest were with corporate lawyers (John calls them "sales preventers") and regulators. At the end of 1999, Minute Maid presented the proposal to the Coca-Cola board. Surprisingly, it was rejected. Coca-Cola saw no reason to go beyond carbonated soft drinks, and there were also some leadership issues. Back to square one.
John and Tom started looking at liquidation because of pressure from investors who wanted their money. But there were other reasons they thought about selling. They were not interested in managing a disparate group of investors—bankers, investors, and private equity companies. With 250 employees, the company was growing into something they did not want it to be—and they were not having as much fun. In 2000, the market was flattening, so with a big brand image, it was a good time to get out. They also wanted to get into larger markets, such as schools and golf clubs, but only big companies could get them into a broader marketplace. They hired an investment bank and again went into negotiations with Coca-Cola as a strategic partner. The situation became very complicated and frustrating. Ultimately, a deal with Coca-Cola was again a no-go.
All was not lost. Pepsi (and others) had expressed an interest. John made a presentation to forty people at Pepsi—rather than the multiple presentations he had to make to Coca-Cola—and within two weeks, they had a deal. SoBe was sold in 2000 to Pepsi for an impressive $370 million…a very nice return on an investment of $7 million in cash and $1 million in trade-out services. Part of the deal was that John would stay on at Pepsi for two years to manage the brand, but after one day, it was clear to him that he was not going to be managing anything. Things were moved into committee, and the corporate bureaucracy took over. John likened the experience to "Making Ho Chi Minh a general in the US Army," that is, he had a very different way of doing things. He is independent, is unconventional, speaks his mind, and would rather do things and make them work—an approach that tends to be at odds with the culture in large corporations.
SoBe inspired a whole line of functional beverages that people like to buy to make them feel smarter, healthier, and sexier. The company helped to build careers that have lasted. John is very happy with his legacy…and with his piece of the $370 million sale price.
Source: Interview with John Bello, cofounder of SoBe, August 23, 2011.
Most textbooks on small business and entrepreneurship emphasize, quite correctly, the benefits and joys of owning and operating one's own business. However, they often neglect to cover many of the challenges of continuing to operate a business successfully—the icebergs that can sink a business. The first half of this chapter covers one of the biggest icebergs: a natural or a man-made disaster and the disaster planning that should precede it. Being able to anticipate a disaster will contribute significantly to its effective handling so that a business can survive.
Even if a small business survives a disaster or another kind of iceberg, the owner may still wish to walk away. If a business does not survive, the owner will have no choice but to walk away. There may be other reasons forcing the owner to walk away, or escape, as well. The second half of this chapter discusses the forced escape and the other end of the spectrum—when things go so well that the business owner is ready to move on to another phase of his or her life. In both cases, an exit strategy will be required.