As we stated in our post How to Design Product Displays at Trade Shows, 78% of exhibitors attend trade shows to showcase products. Launching a new product at a trade show is the best way to maximize exposure and connect directly with consumers.
The right show, a carefully plotted marketing campaign and product-friendly exhibit will help you leverage trade shows to showcase products and increase sales.
Discover how to prepare for a product launch at your next trade show with these helpful steps!

Choose the Right Event
Not all face-to-face marketing events are created equal. Some are larger than others, some are product focused and others are geared towards networking and workshops. It is your job to find the right show to unveil your product to the world.
Finding the correct show can be tricky, especially if you are in an industry with a lot of events taking place each year. When launching a product it is best to look for an event that your core group of potential clients will likely attend. Attending an event with the most potential buyers gives your booth staff the opportunity to gather as many leads as possible.
Make sure that the selected trade show gives enough lead time for the product to be fully developed and tested. When the show hall doors open, the product and your team should be ready for demonstrations and attendee interaction.
Another helpful strategy is choose the right show is to monitor news about competitors and other big names within your industry. It may make sense to avoid launching a product at a show with many new products announcements that may overshadow your own launch. Or, it may make sense to launch where the action is, which is why it pays to research and monitor.
Read More: Choosing a Trade Show or Event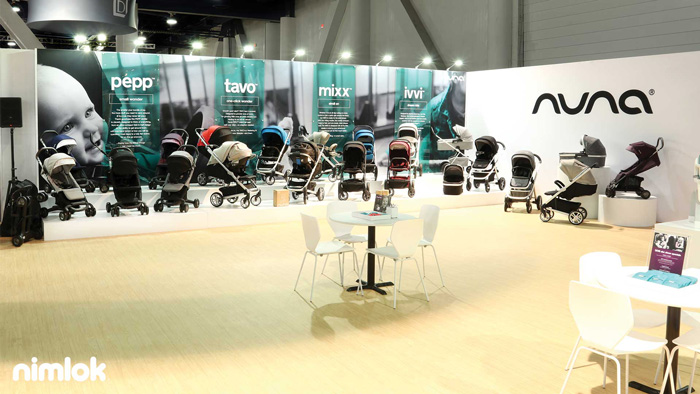 Product-Conscious Booth Design
Now that the brand new product is created, it will need a trade show booth home!
From start to finish, the effort that went into developing a product should go into designing an exhibit that highlights its features. Dynamic exhibits integrate products, giving attendees a first-hand experience that beats a brochure or video presentation any day.
Before jumping into booth design, consider how attendees will interact with the new product. For instance, if attendees can use your product during the show, make sure it is fully functional, taking into account any electrical power needs. If the product is display-only, sophisticated shelving or display cases can go a long way in elevating your product.
Set aside space for product demonstrations, contests and other promotional events to take place inside your booth. Plan for where your audience will stand (or provide seating!) to view the demonstration. Keep the audience's comfort and the product's visibility at the forefront when designing a functional space.
Additionally, add banner stands or other portable booth elements announce, promote and explain the new product. These smaller booth elements can entice passersby to inquire about a new product. Plus, these elements can be easily updated or replaced for future new product launches.
If you have an existing trade show booth that cannot meet the needs of your product launch, consider renting an exhibit. Rental exhibits are typically a third of the cost compared to what it would take to commission a new booth.
Read More: 3 Steps to Designing a Stunning Trade Show Product Display

Pre-Show Marketing
Now that the details are falling into place, you can begin to focus on the product launch promotion.
Create a strategy to build excitement surrounding the new product in the months leading up to the show.
It can be helpful to plan each outreach effort around progress in the product development process. For example, share updates when the product is almost finished and again when it is ready to be the star of the show.
Pre-show marketing campaigns should focus on highlighting key points of your new product launch, including product features and benefits, promotional offers and more. Utilize email, social media, public relations and advertising to amplify the reach of your campaign. Reach out to industry magazines and publications with a press release that gives readers an inside perspective about your product development and promotes your brand as a thought leader.
Monitor feedback from customers, listening to their comments and concerns about your new product. Answering their questions will prepare your staff for conversations on the show floor, and help your product development team to work out any bugs before the show.
Using a Landing Page as Your Product Launch Home Base
We live in a digital age, so we all know just how crucial a role the internet plays in information gathering. If you are planning to launch a product, you will need a well-designed landing page that consumers can easily find or be directed to.
This landing page should contain as much relevant information as possible. Not necessarily about your product (you may want to keep those details a secret until launch), but rather information on release dates, what event/show you will unveil the product at and so on.
It is best practice to begin planning for your event at least three-months in advance. You should also build your landing page around the same time. You want to give your landing page enough time to generate leads and build a buzz around your event. A hastily-built landing page created too close to the actual event will not only limit its time to collect leads, but it will also limit your ability to promote your event and product.
With a strong landing page comes the need for engaging and informative digital content. If you have white papers, e-books, videos, podcast or other digitally accessible content relevant to your product, make sure to have them available for your visitors on your landing page.
Additionally, this landing page can be used for updates during the event, providing an additional resource for your audience to stay informed.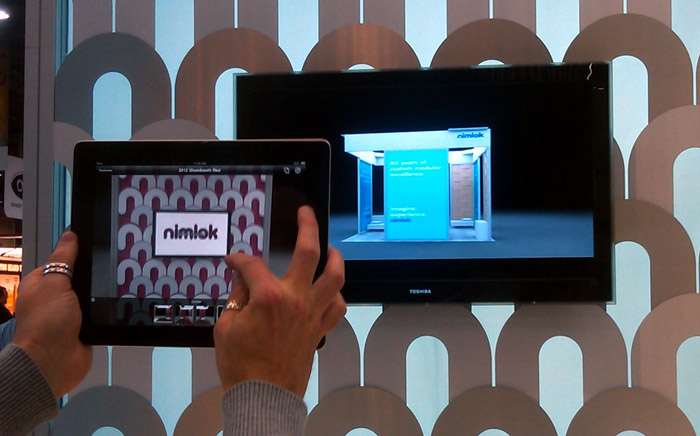 How to Use Social Media to Build Excitement Leading up to a Show
In the weeks leading up to your product launch, leverage social media to build excitement around your event.
If the product is already unveiled, communicate ways that your product makes life easier for consumers, including situational product contexts, benefit-based messaging and case studies.
On the other hand, if you want to build hype for a product unveiling, give teasers and engage followers by asking them to guess about the latest product features. Do this using the event hashtag to build anticipation among followers and show attendees alike.
Additionally, post complete event details about when and where your business plans to unveil your new product. Include the show name and hashtag, as well as your booth number in all posts and demonstration or unveiling schedules.
In terms of platforms, Twitter and Facebook are the two most popular platforms for reaching consumers in real-time. Depending on your target audience, LinkedIn can also be used to connect with industry professionals that will potentially be at the show.
On all platforms, it is important to link posts to pages where followers can learn more about the new product-features and details on the product launch, such as a landing page and digital assets.