Chapter 8-

The Marketing Plan
The New Britain Rock Cats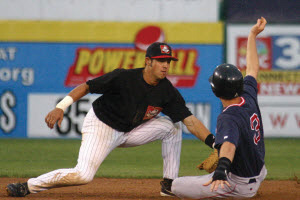 The New Britain Rock Cats were founded in 1983 in New Britain, Connecticut. They are the double-A minor league baseball affiliate of the Minnesota Twins major league baseball club, competing in the Eastern League. The 2011 season marked the 29th anniversary of Eastern League Baseball in New Britain.
There is a rich history of baseball in New Britain, and the Rock Cats are the Nutmeg State's oldest, continuously operating professional sports franchise. From Cy Young Award–winners to most valuable players (MVPs) and batting champions to rookie of the year award winners and all-stars, New Britain has been an enormously productive foundation for major league baseball. Over four million fans have seen professional baseball in New Britain over the years. The Rock Cats have many notable alumni, including MVPs Jeff Bagwell (third baseman) and Mo Vaughn (first baseman). All-stars include Brady Anderson (outfielder), Ellis Burks (outfielder), Aaron Sele (right-handed pitcher), John Valentin (shortstop), and Cy Young Award winner Roger Clemens.
In 2000, the club was sold to a group of investors headed by a local attorney, Coleman Levy, and William Dowling, a former New York Yankees executive vice president. Dowling is the president and CEO of the club, and Levy is the vice president. With a substantially new front office and new increased promotions, the club saw every attendance record fall, passing the 300,000 mark for the past 3 years.
The Rock Cats see themselves as selling affordable family entertainment, not baseball. They target women and children. They integrated the Internet into their marketing activities three years ago and have found it very useful for selling tickets. They also have a Facebook and Twitter presence. About 3 years ago, they spent $5,000 for a professionally prepared marketing research report. As Dowling commented, "It made the company more sophisticated."
The marketing planning process is relatively informal, with everyone participating. There is no formal document. Dowling's philosophy is that if something costs less than $1,000, "go do it." If it costs more than $1,000, "justify it." The Rock Cats are run out of a small office in New Britain. The communication among the staff is regular and effective. Here is an instance in which a formal marketing plan does not seem necessary. Whatever they are doing, it is working just fine.William Dowling (Rock Cats president and CEO), personal interview, March 15, 2011; "Rock Cats History," Minor League Baseball, accessed December 2, 2011, web.minorleaguebaseball.com/team5/page.jsp?ymd=20100316&content_id =8806396&vkey=team5_t538&fext=.jsp&sid=t538; "New Britain Rock Cats," Wikipedia, accessed December 2, 2011, en.wikipedia.org/wiki/New_Britain_Rock_Cats.
Video Clip 8.1
Rock Cats Baseball
A fun look at what the Rock Cats offer to fans.